---
NOT ALL PROJECTOR SCREENS ARE CREATED EQUAL
This section will help explain some of the many different types of projector screens available. Also, which projector screen works best for your particular Home Theater application and which best suites your budget. For more details please contact us and one of our certified Home Theater technician will personally guide you to the correct projector screen for you. Our in home consultations are FREE and we are available to 7 days, by appointment only.
Ultra-White screen fabrics provide same brightness viewing at all angles. This fixed frame projector screen features high quality ultra white soft PVC fabric 1.2 gain with viewing angle of 120 degree. This fabric is designed to capture the colors and images of your 4K HD videos or movies, so you have the best viewing experience . This truly amazing projector screen is made of sturdy aluminum frame wrapped in luxurious black velvet.
High Contrast Slate Gray screen fabrics absorb ambient light, improve black levels on images, and boost contrast. This fixed frame projector screen features high contrast gray soft fabric 0.9 gain. This fabric is designed to enhance the contrast and improves the black levels of your 4K HD videos and movies, so you have the best viewing experience at home or office . This high quality projector screen is made of sturdy aluminum frame wrapped in luxurious black velvet.
Acoustic fabrics let sound pass through the screen for better sound experience and placement of speakers behind the screen. This projector screen features Ultra 4K HD Ready acoustically transparent screen material. Designed for hidden-speakers or rear (behind the screen) speaker set-up. This angular weave material allows sound to breathe through the screen while simultaneously eliminating moiré effect. This matte white surface provides excellent color neutrality for superior color reproduction and wide diffusion uniformity.
---
SI Zero Edge Black Diamond
The best projection screen money can buy
When we introduced Black Diamond® to the world in 2006, we turned the industry upside down and created a new category of product. The same thing happened when we created Zero Edge® and the combination of these two products is nothing less than awesome. You've got to see it to believe it.
Available in custom screen sizes and configurations up to 150″, and sold for a price that is often less than 80″ or larger flat panel TVs, the combination of a Zero Edge® screen and projector can deliver significantly more value per square inch than flat panel TVs.
Color Perfection
Actually, it's beyond perfection.
In addition to preserving the contrast ratio from the projector, and increasing contrast performance over matte white screen materials by 900%, our Black Diamond® material also preserves the colors being produced by the projector. This is possible because Black Diamond® rejects the ambient light from the room which would include wall color, lights (which can push the screen into a different color temperature based), and other ambient light sources. Calibrating a screen has never been easier with our Black Diamond® material.
What could possibly make Zero Edge® even better? The Black Diamond® is the answer. True, Zero Edge® in and of itself is a ground-breaking technology, designed and created by SI. What happens when you combine Zero Edge® with Black Diamond®? An image that you truly have to see to believe. Now your screen does not need to be hidden away in a room in the dark corners of your home. Instead, show your screen off in your living room where you can entertain yourself and your guests in any environment, not with just the lights off.  Click on the videos to the right for a live demo.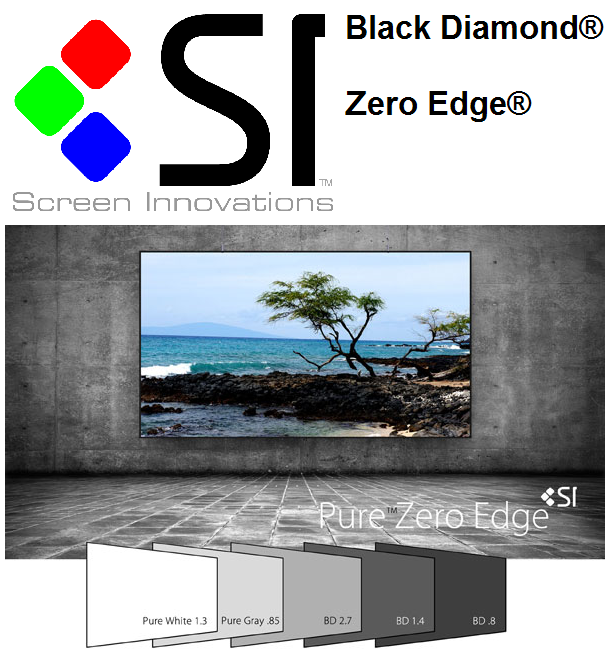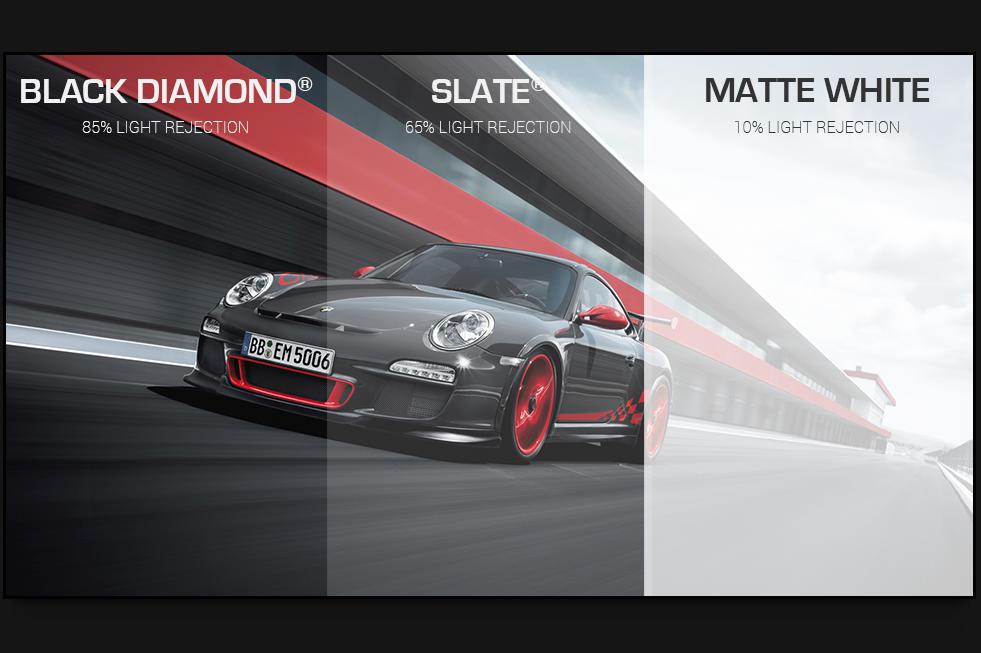 ---
SI BLACK DIAMOND VIDEOS BELOW:
Click on the videos below and see the Zero Edge Black Diamond Screen by Screen Innovations in action.
Next Steps...
If you would like to move forward with a consultation, arrange for one of our custom Home Theater Installations or just need more information, click over to our service page and fill out a contact from. You can even call us anytime and one of our experienced, certified techs will help you with you project.
Thanks again,
SCE HOME THEATER
(678) 278-9688